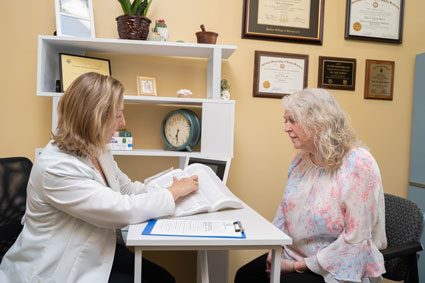 Nutritional Counseling
From drive-thru dinner dashes to microwavable meals it's no wonder that so many people don't get the nutrients they need each day. Dr. Perrin provides nutritional counseling to help guide her patients to healthier eating habits, which in turn can influence their health and help either overcome health challenges or optimize their health in general.
Nutritional counseling at Orchard Natural Medicine is part of the journey of a patient's naturopathic visit.
Types of Diets
We may recommend the following:
The Blood Type Diet
Food Elimination Diet
Food Sensitivity Testing
Supplements
Virtual Dispensary
For your convenience, you can purchase certain supplements from our virtual dispensary through Fullscript. The virtual dispensary will feature supplements from professionally formulated brands such as Orthomolecular, Protocol for Life, Herb Farm, Thorne and Priority One.
A Complement to Naturopathic Medicine & Chiropractic
More than likely you've heard the familiar expression, "you are what you eat." It's true! So when you improve your diet and you're eating the right foods, a lot of times some of the chronic health complaints can get better. Whether it's inflammation that's causing pain or weight challenges that are contributing to some of your health complaints, eating right is going to help improve your overall health.
Book an Appointment
Contact our West Aurora practice today to schedule an appointment for nutritional counseling with Dr. Perrin!
CONTACT US

Nutrition in West Aurora IL | (630) 962-6073