Acupuncture at Orchard Natural Medicine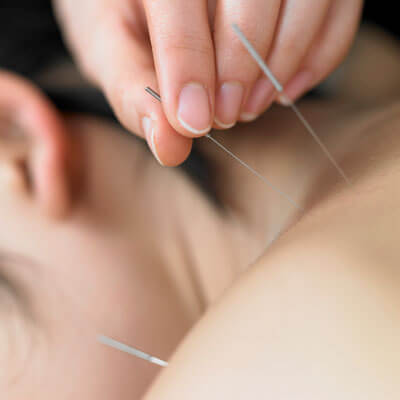 Acupuncture is a form of Traditional Chinese Medicine that uses fine sterile needles at specific acupuncture points within the meridian channels of the body. The gentle and painless needle insertion restores the free flow of energy (Qi) and promotes harmony among the systems of the body.
Clearing the Pathways for Healing
Qi moves through pathways called meridians. These pathways are like rivers of energy flowing inside the body, transporting life and nourishment to the different organ systems. Qi can become obstructed causing a backup in a part of the body. This blockage can cause further restrictions in other organ systems downstream from the blockage.
The disruptions to the free flow of Qi can arise from many things such as poor diet, lack of exercise, injuries, stress, trauma (emotional and physical), and overexertion. Normally, that innate intelligence in the body can overcome these blockages and restore health on its own.
In cases where the blockage has been prolonged or excessive, illness, pain, or disease can set in. Acupuncture is able to help the body overcome the blockages and heal from a broad spectrum of health conditions.
Conditions That Can Be Helped With Acupuncture
Here are some of the many health issues that can be successfully managed with acupuncture:
Adrenal conditions
Arthritis
Gut conditions (IBS, heartburn, diarrhea, etc.)
Headaches & migraines
Hormonal imbalances
Infertility challenges
Mood disorders
Pain
Physical traumas from accidents
Post-op recovery
Pregnancy-related discomfort
We recommend that you wear comfortable clothing because there are points that will be located in areas that could be hard to get to. You're welcome to eat or drink beforehand but you don't want to be overly full before your session as your body would be focusing on digesting rather than healing. You also should abstain from any recreational alcohol or other substances because those could interfere with the body's healing ability.
During the initial appointment, a full health history is taken and a physical exam is done, including pulse and tongue diagnosis. Once Dr. Perrin has detected any specific imbalances of Qi that may have contributed to a person's health problems, she then creates a well-structured treatment plan.
Patients can expect their first acupuncture treatment after the history and exam are completed. Dr. Perrin may also recommend other services such as chiropractic care and supplements to complement your acupuncture treatment. "My goal is to give patients the service or services they need to recover and optimize their health," said Dr. Perrin.
Book a Session
Wondering if acupuncture can help you? Contact Orchard Natural Medicine today to book an appointment with Dr. Perrin!
CONTACT US

Acupuncture West Aurora IL | (630) 962-6073